Patricia Hutchings Books & Software
Learn the Secrets of Vision Training: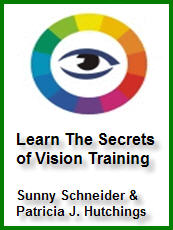 Vision training techniques are not new.
Different cultures have developed exercises over the centuries.
This practical book give you specific exercises you can
implement immediately to help keep your eyes healthy
and your vision sound.
Published by Unique Perspectives Publishing ISBN: 0-9700195-1-3
* Your order will be shipped by US Priority mail.

To Order "Healthy Eyes" For $17.95 + *$4.95 S&H
Click the PayPal "Buy Now" Button Below
---
Managing Workplace Chaos:
Solutions for Handling Information, Paper, Time and Stress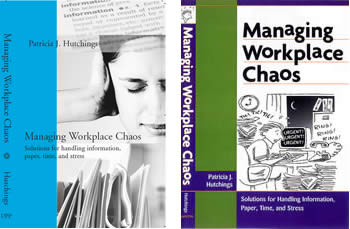 Managing Workplace Chaos gives you step-by-step methods you need to burst through the confusion of life at the office, allowing you to get your work done and retain your sanity while you're at it. This lifesaving book offers innovative and – most importantly – effective strategies to help you flourish rather than flounder in your working environment, featuring strategies to help you achieve:
Advanced Reading and Recall
Time and Information Management
Life Balance
Written and designed as a hands-on, reader-freiendly reference, Managing Workplace Chaos is filled with anecdotes and helpful examples and worksheets. Each section includes a variety of self-scored inventories and quizzes, among them a special stress inventory list.
Finally, a follow-up application plan helps you put it all into practice. Managing Workplace Chaos gives you the tools to keep office chaos at bay, both on your desk and in your mind.
* Your order will be shipped by US Priority mail.
To Order Managing Workplace Chaos for $15.00 + *$4.95 S&H
Click the PayPal "Buy Now" Button Below
---
Bumblebee Bits™ of Wisdom:
A Collection of Quotes to Uplift Your Days and Perpetual Daily Calendar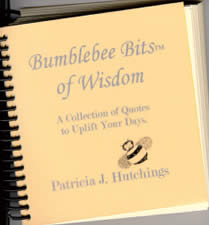 "However busy we get, whatever our world looks like in any given moment, there is a base of truth, love and personal power that underlies all of our experience. Bumblebee Bits™ of Wisdom reminds us everyday that we each have tremendous power within us."
The purpose of this book is give you a lift to start your day, keep you going during tough times and help you stay on your chosen path. Each day enjoy some of my favorite quotes along with a suggestion or reminder from me.
Bumblebee Bits of Wisdom is on sale in 2008! Available here exclusively for a limited time at $10.00 each.

To Order Bumbleebee Bits of Wisdom for $12.95 + *$4.95 S&H
Click the PayPal "Buy Now" Button Below